October Susan G. Komen Breast Cancer Fundraiser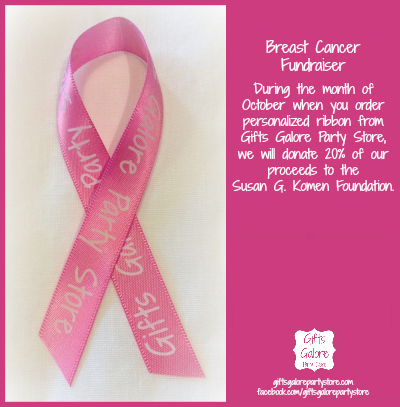 Gifts Galore Party Store is supporting Breast Cancer Awareness by hosting a Breast Cancer Fundraiser for the Susan G. Komen Foundation.
Throughout the month of October when you purchased personalized ribbon from Gifts Galore Party Store, we will donate 20% of our proceeds to the Susan G. Komen Foundation.  Too many of our friends and family have been affected by breast cancer and this month we are helping find a cure!
Order now using this link http://giftsgalorepartystore.com/gift-ribbon/
Did you know?
Breast cancer is the most common cancer among American women, except for skin cancers. About 1 in 8 (12%) women in the US will develop invasive breast cancer during their lifetime.
The American Cancer Society's estimates for breast cancer in the United States for 2013 are:
About 232,340 new cases of invasive breast cancer will be diagnosed in women.
About 64,640 new cases of carcinoma in situ (CIS) will be diagnosed (CIS is non-invasive and is the earliest form of breast cancer).
About 39,620 women will die from breast cancer
Information provided by American Cancer Society