Halloween Party Tips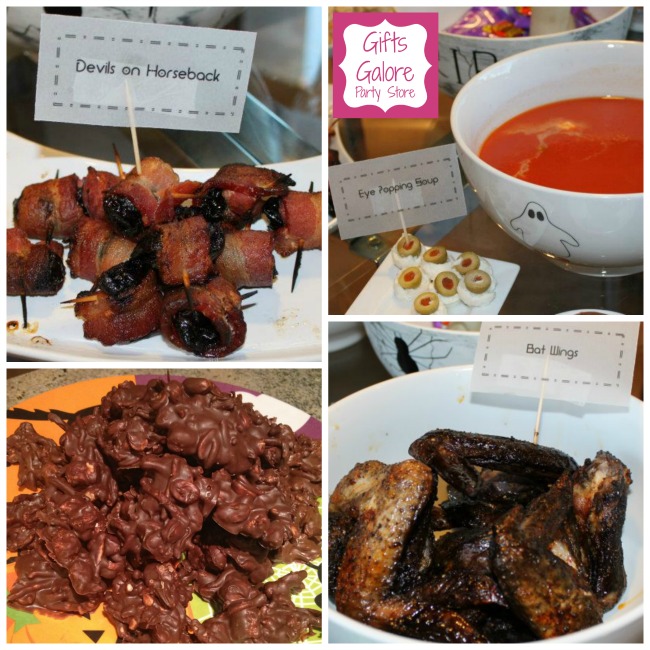 Halloween Party Tips
This Gift Girls LOVE holidays, especially Halloween.  We love dressing up (this year we were the Ghostbusters!) and getting into the spooky Halloween spirit.  Every year friends and their children come over for a fright filled dinner before we head off trick or treating in our neighborhood.  The kids love noshing on Bat Wings, Eye Ball Soup, Devils on Horseback, Witches Fingers and Chocolate Frogs.  Parents love to imbibe Vampire Blood and Witches Brew.  Below are two of our most requested Halloween Party Foods – Bat Wings and Devils on Horseback.
Have a Spooktacular Halloween Y'all!
Bat Wings
Preheat grill to medium.  Place uncooked Chicken Wings in a gallon plastic bag. Add a few drops of Black Food Coloring and shake the bag to coat the wings.  Place wings on a parchment lined cookie sheet.  Season with Salt, Pepper, Garlic Powder, Paprika and Cayenne.  Put wings on to grill and cook until done, turning occasionally.
Devils on Horseback
Soak toothpicks in water and preheat grill to medium.  Wrap 1/2 piece raw bacon around 1 pitted prune and secure with soaked toothpick.  Assemble as many bacon wrapped prunes as desired.  Place prunes on to a parchment lined cookie sheet and baste each side with BBQ sauce.  Place bacon wrapped prunes in a grill basket and grill until bacon is crispy, basting occasionally.
Eye Ball Soup
Using tomato soup (or bisque), this warm winter soup becomes a Halloween favorite when you float small buffalo mozzarella (ciliegine) and sliced olives in the bowl.  Cut a small green pimento olive in half and place inside a hallowed out a ciliegine ball and float in the tomato soup.
Chocolate Frogs 
Recipe from LaChoy.com
Place 1 cup semi sweet chocolate chips and 1 cup butterscotch chips in a microwave safe bowl and melt chips.  Stir the chips and add 2 1/2 cups chow mein noodles, 2 cups mini marshmallows and 1/2 cup dry roasted peanuts.  Carefully stir mixture.  Spoon mixture on to a parchment lined cookie sheet. Once the chocolate is hard, the chocolate frogs are ready to be served.  Watch out these frogs are so good you will think they hopped off the plate!